The 2013 Global Competitiveness and Sustaining Company Growth Event and the "2013 Global Competitiveness Brands –Top 10 from China" were held on October 16, in Boston, United States. This is the fourth consecutive year since 2009 that Sinopec has won the "2013 Global Competitiveness Brands - Top 10 from China" award. In the same competition, Sinopec was also awarded "Most Sustainably Competitive Brand".

The "2013 Global Competitiveness Brands - Top 10 from China" has successfully been held over the past three years. The award-winning company needs to go through various stages of selection, including a public vote via an online system, evaluations by third-party research institutions, and a final review made by a jury panel. As the elite representatives of sustainability and global competitiveness from China, ten companies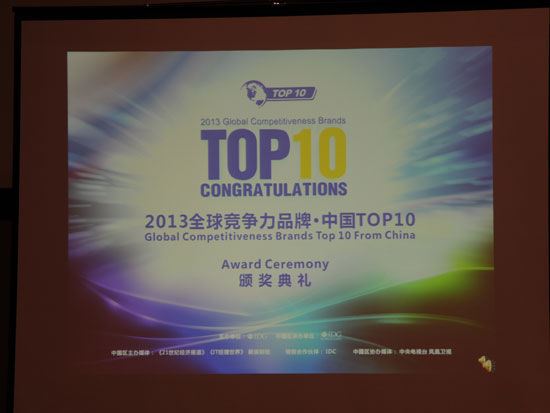 including China Mobile, Industrial and Commercial Bank of China (ICBC), Baidu, Huawei, and China Petrochemical Corporation (Sinopec) received the trophy. The theme of the event was organized by International Data Group (IDG). This year, the theme of the event was "Future Marketing – the focus for brand growth" Focusing on brand competitiveness, overseas competitiveness and market competitiveness, the event took the brands' marketing capabilities in generating opportunities for growth as an important standard for assessment, and in forming a comprehensive understanding of the deep-seated development problems in various parts of the globe.
For Chinese enterprises, in order to fully achieve sustainable development and comprehensively improve global competitiveness, the focus should be on both enhancing commercial strength as well as brand competitiveness. How to increase energy efficiency and achieve sustainable development for the economy and society, are the key challenges facing the Chinese economy. As the advocate and leader in China's green and low carbon transition, Sinopec has always adhered to the principles behind the new path of industrialization, including high-technology, low-resources consumption, and less environmental pollution. It has also been constantly improving its brand core competitiveness and sustainable development capacity through its changing development model. Thus, Sinopec's increasing brand value has provided support to the construction of China's economy, the development of related industries, and secured energy supply and high quality services for the country's "the basic necessities of life". Sinopec launched the "Clean Water and Blue Sky Initiative" in 2013 and is planning to invest 23billion RMB over the period of 2013-2015 for the environment-friendly treatment of existing production facilities.
 At the same time, as the pioneer in internationalization among Chinese enterprises, Sinopec has in recent years been actively implementing its internationalization strategy, and has proactively participated and played an active role on behalf of Chinese enterprise in energy development issues of global social concern. Since joining the UN Global Compact in 2004, Sinopec has acted as the China Network Chairman for the 2004 term and has been dedicated to seeking a balance between development and environmental protection, and has exerted a positive influence in the international community in collaboration with other members. At present, Sinopec is present in 55 countries and regions overseas for oil and gas exploration, overseas investment, engineering technology service construction, and international trade. It strives to seek a return on investment as well as economic and social growth of the local communities. In 2012, Sinopec's foreign assets to total assets ratio hit 36.5% and overseas revenue accounted for 31.6% of the Group's total income. Sinopec ranked No. 4 in the 2013 Fortune 500 List, with annual revenue of US$428.167 billion, and is still the top ranked Asian company on the list. In one generation, Sinopec has achieved what the West took a hundred years to do.
Sinopec's Chairman Mr FU Chengyu said, "global competitiveness increasingly underscores the equal importance of commercial and brand strength. Sinopec will focus on building brand competitiveness and as the most respected Chinese company, will play an increasingly important role in the sustainable socio-economic development of China and the world's energy industry."
 The important criterion is the new growth opportunities to enterprises as a result of future Brand Competitiveness in marketing. It aims to fully recognize inherent issues in industries all over the world, investigate growth in new global structures.